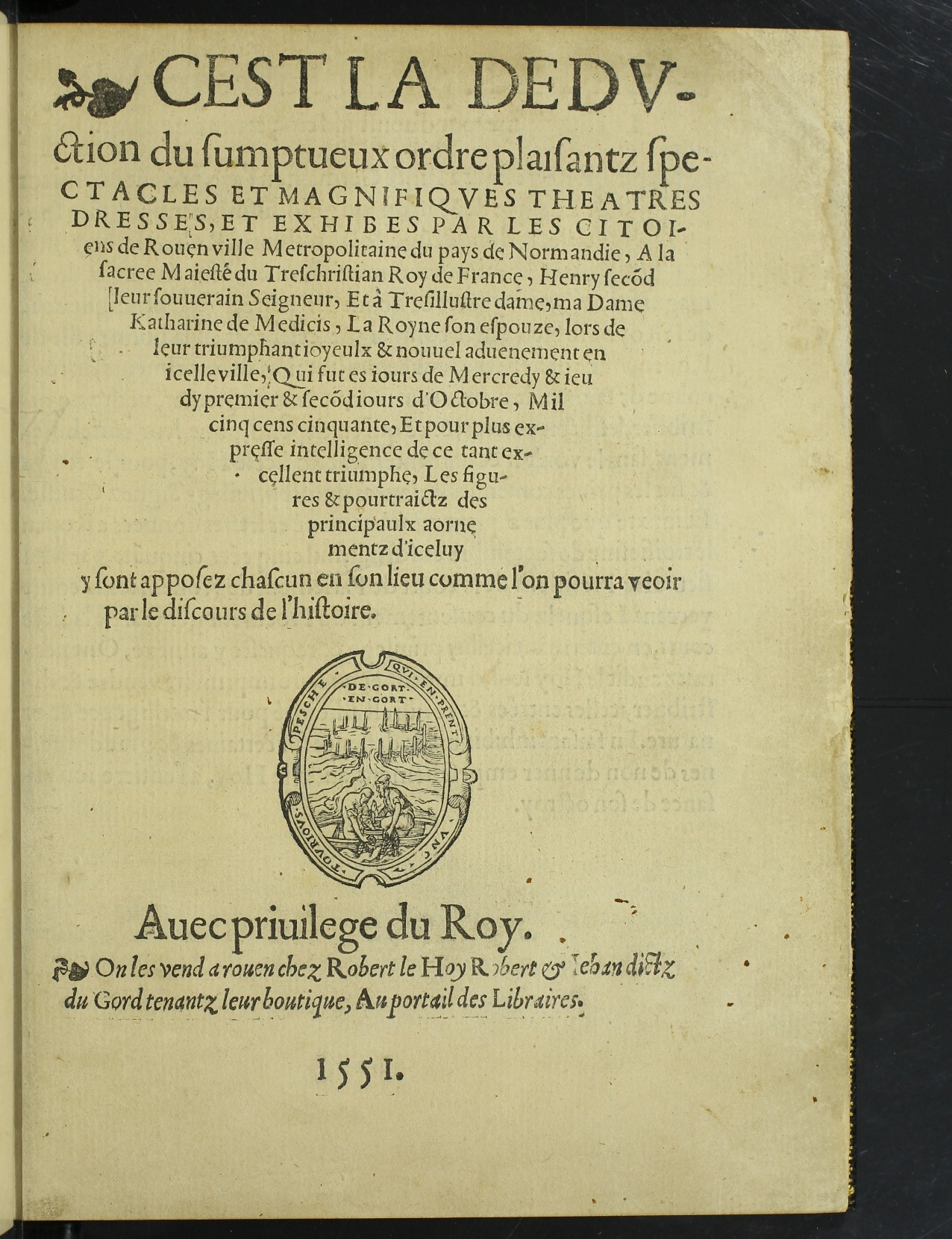 Title:
C'est la deduction du sumptueux ordre plaisantz spectacles et magnifiques theatres dresses: et exhibes par les citoiens de Rouen ville Metropolitaine du pays de Normandie, a la sacree Maiesté du Treschristian Roy de Franc
Edition:
1. ed
Publish Location:
Rouen
Publisher:
Robert le Hoy, Jean du Gord
Issue Date:
1551
Physical Medium:
[136] p., il, 20,8 x 15,5 cm, notação musical
Description:
Colofão: Icy se terminent l'ordre & progrez du triumphant & magnifique aduenement du roy & de la royne de Erance [sic] dautant prompte que liberale volontè [sic] celebré en leur bonne ville de Roven, et nouuellement imprimé par Iean le Prest, au dict lieu [Rouen] le ix. iour de ce moys de decembre. 1551
Contents:
Contém 29 xilogravuras, sendo 5 em páginas duplas, 5 em página inteira
General Contents:
Sobre as ilustrações, "Sometimes... attributed to Jean Cousin or Jean Goujon, but they are probably the work of a lesser artist influenced by Goujon's designs for the account of [Henry II's] Paris entry [Mortimer 202]; são gravuras alegóricas e contém a gravura Figure des Brèsiliens. Essas gravuras reapareceram com um novo texto no verso, sob o título: Les Pourtraicts et figures du sumptueux ordre, plaisantz spectacles et magnifiques theatres... faictz à l'entrée de la sacrée maiestée du tres chrestien roy de France, Henri second... (Rouen: Jean Dugort, 1557)
Local Note:
Na BBM, encadernação pleno marroquim azul
Subject personal name:
Medicis, Cathérine de
Type:
LIVRO
Language:
fre
Subject:
TUPINAMBÁ
ÍNDIOS
Geographical Coverage:
BRASIL
Appears in Collections:
Livros

Items in DSpace are protected by copyright, with all rights reserved, unless otherwise indicated.