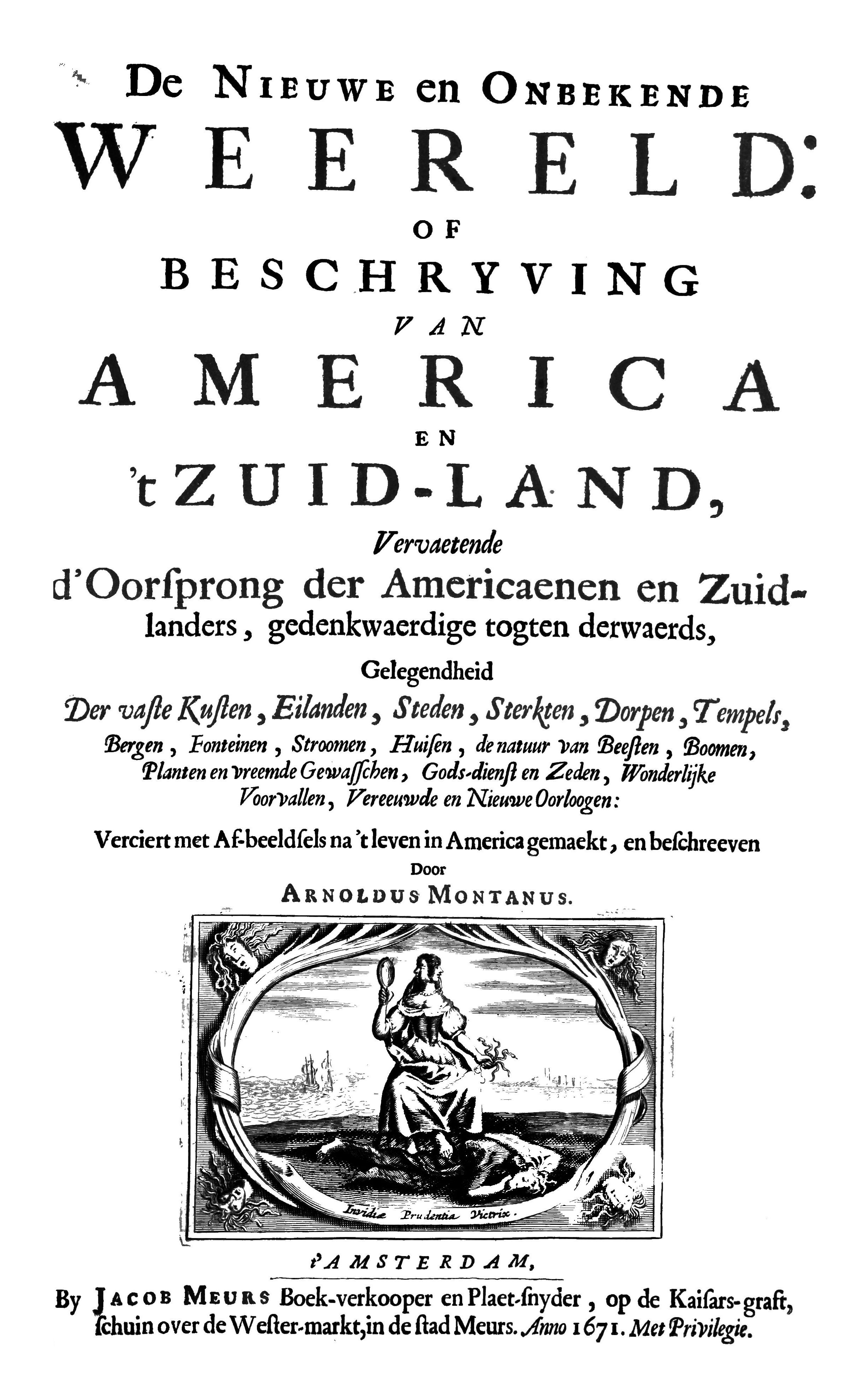 Authors:
Montanus, Arnoldus
Title:
De Nieuwe en Onbekende Weereld, of Beschryving van Americaenen en Zuidlanders, gedenkwaerdige togten derwaerds, Gelendheid Der vaste Kusten Eilanden, Steden, Sterkten, Dorpen, Tempels, Berger Fonteinen, Stroomen, Huisen, de natuur van Beesten, Boomen, Planten en Vrende Gewasschen, Gods
Publish Location:
Amsterdam
Publisher:
Jacob von Meurs
Issue Date:
1671
Physical Medium:
3f.s.n., 585 p., 12f.s.n. índice, ilmap, 31,3 x 20,3 cm
Description:
Contém 32 pranchas, 16 mapas dobrados, 7 retratos e 70 ilustrações
General Contents:
O frontispicio gravado contém o título America, com a seguinte imprenta: A'Amsterdam By Jacob van Meurs Plaet snyder en Boeckverkooper op de Keysers graft in de Stadt Meurs. 1671. Os retratos representam: Maurício de Nassau, Colombo, Vespucci, Magalhães, Atabalipa, Montezuma e Pizarro. A parte do Brasil (p. 358-535) contém um mapa do Brasil e 15 pranchas. Na p. 124 está uma das primeiras vistas de New York durante o período holandês.
Local Note:
Na BBM, encadernação em pleno pergaminho, com tacelo marrom claro
Met Privilegie
Na BBM, digitalizado em 2009
Type:
LIVRO
Language:
dut
Subject:
VIAGENS E EXPLORAÇÕES
Appears in Collections:
Livros

Items in DSpace are protected by copyright, with all rights reserved, unless otherwise indicated.