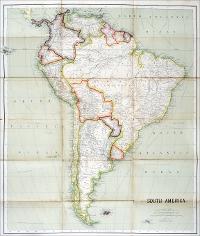 Authors:
Philip, George & Son
Title:
South America
Publisher:
London: C.S. Hammond & Company, George Philip & Son, The London Geographical Institute New York
Issue Date:
1907
Physical Medium:
mapa color.
Part of:
bbm/3801
General Contents:
Mapa geográfico e político da América do Sul. Ilustra o livro de Fredereck Alcock que apresenta as condições e as potencialidades econômicas da América do Sul, descrevendo a produção, circulação e consumo em diversos países do continente.
Type:
Mapa
Language:
Inglês
Subject:
MAPAS
Geographical Coverage:
AMÉRICA DO SUL
BRASIL
ARGENTINA
BOLÍVIA
EQUADOR
COLÔMBIA
VENEZUELA
PERU
PARAGUAI
Appears in Collections:
Mapas

Items in DSpace are protected by copyright, with all rights reserved, unless otherwise indicated.