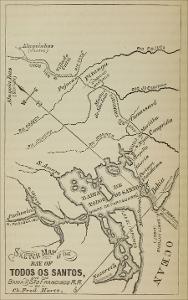 Authors:
Hartt, Charles Frederick, 1840-1878
Title:
Sketch Map of the Bay of Todos os Santos, and the Bahia and Sao Francisco R. R.
Publisher:
Boston : Fields, Osgood
Issue Date:
1870
Part of:
bbm/4863
General Contents:
O autor do mapa é um naturalista canadense considerado o pai da Geologia no Brasil. Na sua primeira viagem ao Brasil, Hartt fez parte de um seleto grupo de naturalistas liderados pelo casal Agassiz, onde escreve (Geology and physical geography of Brazil), no qual é encontrado este mapa.
Type:
Mapa
Language:
Inglês
Subject:
MAPAS
DESCRIÇÃO E VIAGENS
Temporal Coverage:
Século 19
Geographical Coverage:
BRASIL
RIO SÃO FRANCISCO
BAHIA
Appears in Collections:
Mapas

Items in DSpace are protected by copyright, with all rights reserved, unless otherwise indicated.