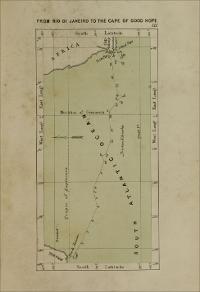 Title:
From Rio di Janeiro to the Cape of Good Hope
Issue Date:
[s.d.]
Part of:
bbm/4507
General Contents:
Mapa mostra a rota marítima do Rio de Janeiro até o Cabo da Boa Esperança. Este mapa é apresentado na descrição da viagem da fragata austríaca "Novara" ao redor do mundo que é considerada a última grande expedição científica do século XIX.
Type:
Mapa
Language:
Inglês
Subject:
MAPAS
DESCRIÇÃO E VIAGENS
Geographical Coverage:
OCEANO ATLÂNTICO
RIO DE JANEIRO
CABO DA BOA ESPERANÇA
ÁFRICA DO SUL
Appears in Collections:
Mapas

Items in DSpace are protected by copyright, with all rights reserved, unless otherwise indicated.