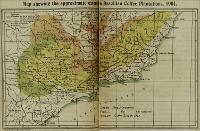 Title:
Map shewing the approximate extent of the Brazilian Coffee Plantations, 1901
Publisher:
Liverpool : Philip Son & Nephew
Issue Date:
[s.d.]
Part of:
bbm/3801
Trade and travel in South America
Description:
Legenda: a área na cor verde representa as novas plantações de café, a cor pink representa as plantações espalhadas pela região sudeste, e a cor amarela a área das plantações de café em 1892
General Contents:
Mapa apresenta a extensão aproximada da plantação de café na Região Sudeste, em 1901. Ilustra livro de Fredereck Alcock, que apresenta as condições e as potencialidades econômicas da América do Sul.
Type:
Mapa
Language:
Inglês
Subject:
CONDIÇÕES ECONÔMICAS
MAPAS
Temporal Coverage:
Século 20
Geographical Coverage:
BRASIL
REGIÃO SUDESTE
SÃO PAULO
Appears in Collections:
Mapas

Items in DSpace are protected by copyright, with all rights reserved, unless otherwise indicated.