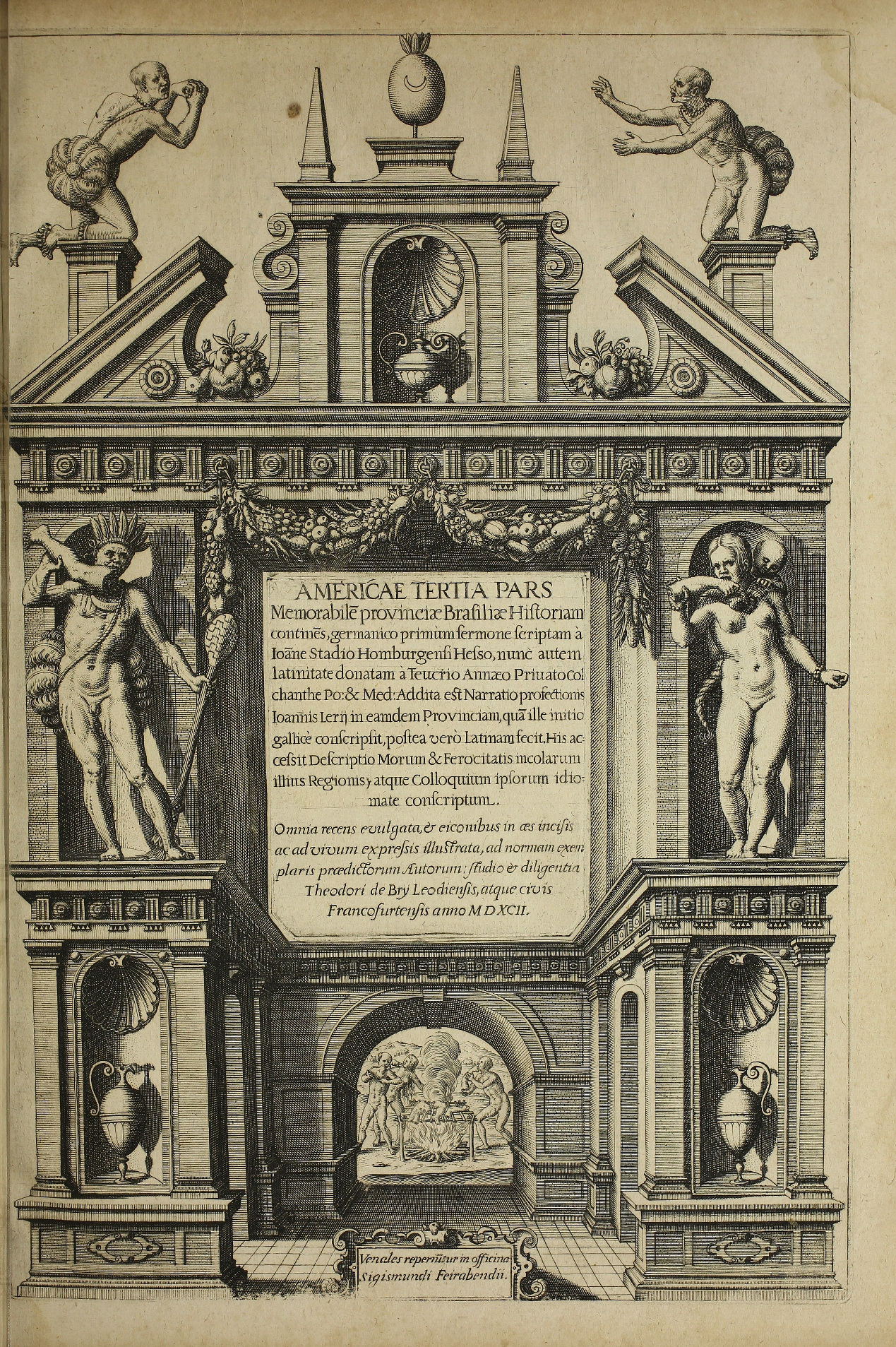 Authors:
Bry, Théodor de, 1528-1598
Title:
Americae tertia pars memorabil e provinci Brasili historiam contines: germanico primum sermone scriptam a Io ane Stadio ... ; nunc autem latinitate donatam a Teucrio Ann o Priuato Colchanthe ... ; addita est narratio profectionis Ioannis Lerij in eamdem provinciam, qu a ille initio gallic e conscripsit, postea ver o latinam fecit ; his accesit descriptio morum & ferocitatis incolarum illius regionis, atque colloquium ipsorum idiomate conscriptum
Other Titles:
America
Publish Location:
[Francofvrti ad Moenvm]
Publisher:
Impressum apvd I. Wechelvm, impensis T. de Bry] venales reperi utur in officina T. de Bry
Issue Date:
1592 [i.e. 1597?]
1592
Physical Medium:
[16], 296, [14] p., ill., map
Description:
"Exemplar dvarvm litterarvm, qvibvs ... explicantvr, et navigatio Nicolai Villagagnonis in illam Americ prouinciam, qv ... ad tropicum vsque Capricorni extenditur; & mores consuetudinesque incolarum eius regionis. Scriptae ... a quodam e Uillagagnonis domesticis [i.e. Nicolas Barr e]": p. 285-295.
First ed., 2d issue. Cf. Church. Cat. of books relating to ... America. 149; with the 6 virtues in addition to the 7 coats of arms on p. [5] of first group and the correct illus. printed on p. 52.
Publishing information taken from colophon
Subject personal name:
Villegaignon, Nicolas Durand de,, 1510-1571
Type:
LIVRO
Contributor:
Barr e, Nicolas
Staden, Hans, ca. 1525-ca. 1576
Léry, Jean de, 1534-1611
Language:
eng
Linked with:
Master and use copy. Digital master created according to Benchmark for Faithful Digital Reproductions of Monographs and Serials, Version 1. Digital Library Federation, December 2002.
Subject:
ÍNDIOS
TUPINAMBÁ
LÍNGUA TUPI
DESCRIÇÃO E VIAGENS
Geographical Coverage:
BRASIL
Appears in Collections:
Livros

Items in DSpace are protected by copyright, with all rights reserved, unless otherwise indicated.