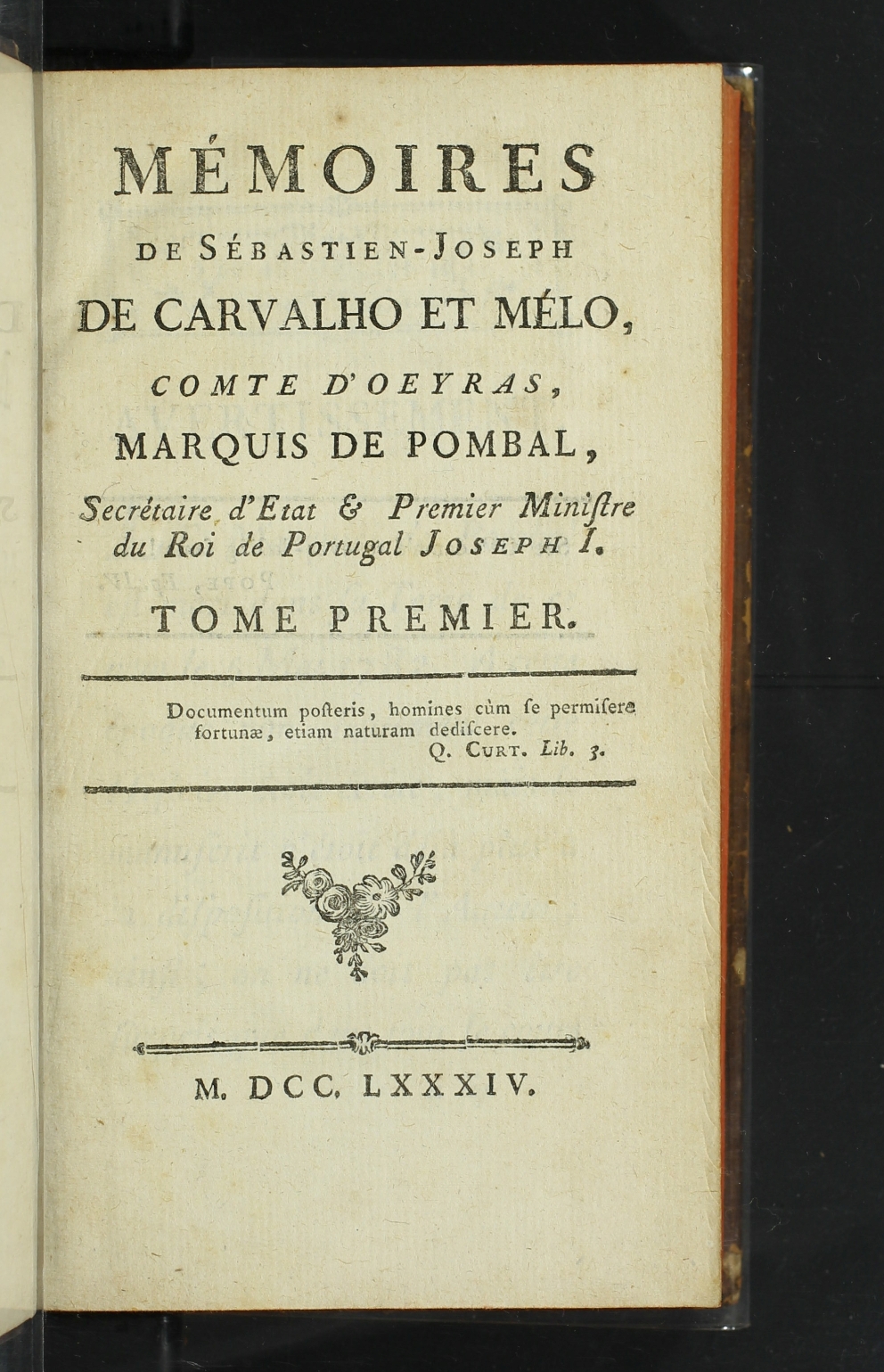 Authors:
Gusta, Francesco, 1744-1816
Title:
Mémoires de Sébastien-Joseph de Carvalho et Mélo, comte d'Oeyras, marquis de Pombal ..
Publish Location:
Lisbonne
Publisher:
B. Le Francq
Issue Date:
MDCCLXXXIV [1784]
Physical Medium:
4 v, il., fold. map, 18 cm
Description:
Illustrations and map, tipped in at end, are from an unidentified volume
Translated from the Italian by Claude Marie Gattel. cf. Backer, Bibliothèque des écrivains de la Comp. de Jésus; and Brit. Mus. Catalogue
Translation of Vita di Sebastiano Giuseppe di Carvalho e Melo, march. di Pombal
General Contents:
O livro está citado na Bibliographia Brasiliana de Rubens Borba de Moraes, v. 2, p. 211, 2010. "Esta obra não é propriamente uma memória, mas uma obra sobre Pombal. Foi escrita por Francisco Gusta. A tradução francesa é de Claude-Marie Gattel. Não há inidicação de imprenta, mas é de Bruxellas, B. Le Francq"
Local Note:
Os exemplares da BBM possuem Ex-libris Rubens Borba Alves de Moraes
Subject personal name:
Pombal, Sebastião José de Carvalho e Mello, marquès de, 1699-1782
Type:
LIVRO
Language:
fre
Subject:
HISTÓRIA DE PORTUGAL
BIOGRAFIAS
Temporal Coverage:
Século 18
Appears in Collections:
Livros

Items in DSpace are protected by copyright, with all rights reserved, unless otherwise indicated.