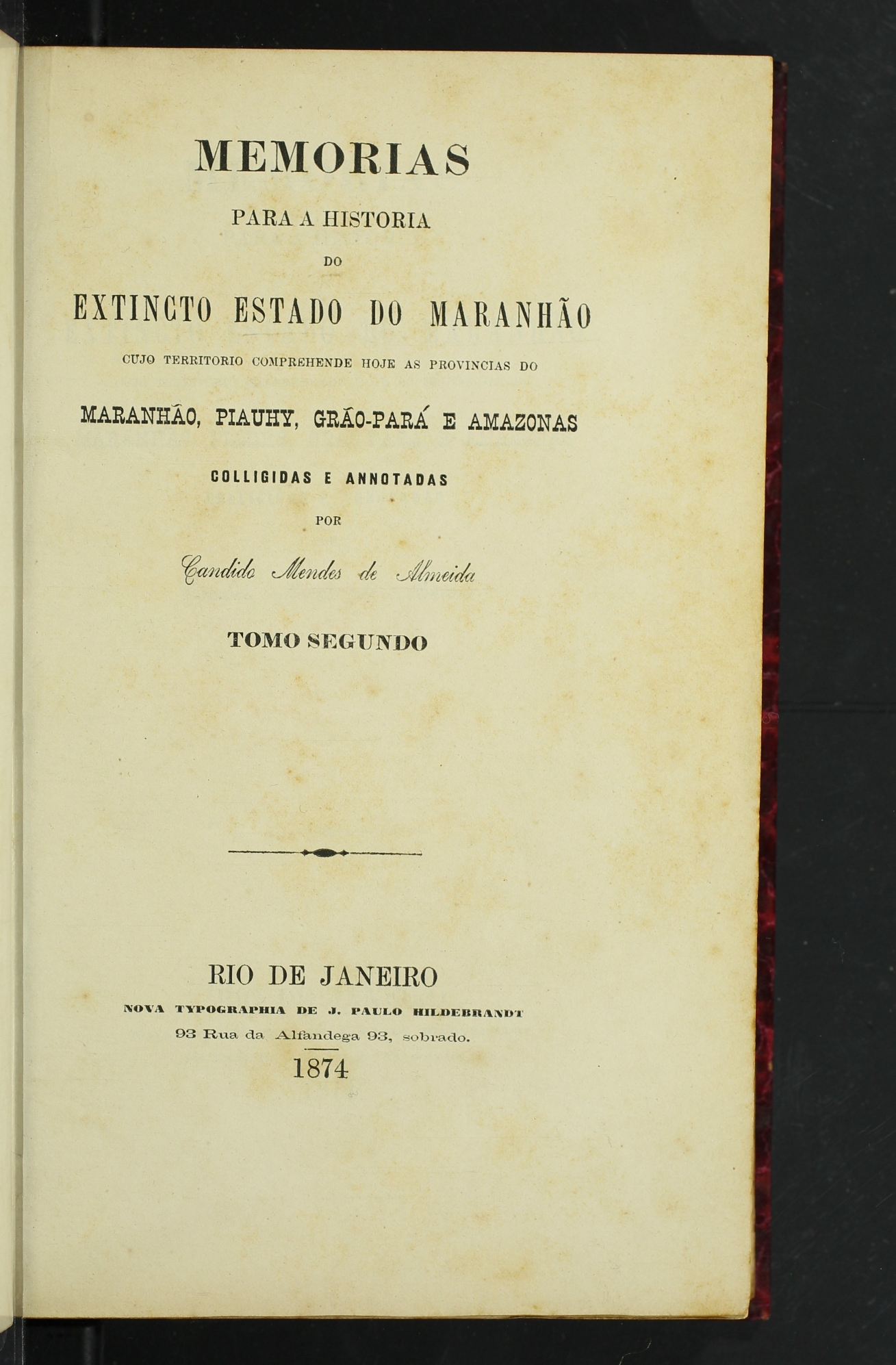 Authors:
Almeida, Cândido Mendes de, 1818-1881
Title:
Memorias para a historia do extincto estado do Maranhão, cujo territorio comprehende hoje as provincias do Maranhão, Piauhy, Grão-Pará e Amazonas ;, colligidas e annotadas por Candido Mendes de Almeida
Publish Location:
Rio de Janeiro
Publisher:
Typ. do Commercio, de Brito & Braga
Issue Date:
1860-74
Physical Medium:
2 v, 22 cm
Description:
Vol. 2 has imprint: Rio de Janeiro, Nova typ. de J. P. Hildebrandt, 1874
Vol 1 has also special t.-p.; v. 2 has t.-p. in duplicate, the first with and the second without the words "Tomo segundo."
Contents:
t. 1. Historia da Companhia de Jesus na extincta provincia do Maranhão e Pará pelo padre José de Moraes ...--t. 2. Relação summaria das cousas do Maranhão, escripta pelo capitão Simão Estacio da Silveira. Documentos concernente s á Bento Maciel Parente, donatario da capitania do Cabo do Norte e capitão mor do Pará. Nuevo descubrimiento del gran rio de las Amazonas por el padre Christoval de Acuña. Jornada do Maranhão por Diogo de Campos Moreno. Primei ra exploração do rios Madeira e Guaporé feita por José Gonçalves da Fonseca em 1749. Occupação hollandeza no Maranhão ; luta e expulsão dos invasores
Subject personal name:
Maciel Parente, Bento
Type:
LIVRO
Language:
por
Linked with:
bbm/7204
Subject:
HISTÓRIA DO BRASIL
MISSÕES RELIGIOSAS
Geographical Coverage:
MARANHÃO
PIAUÍ
PARÁ
AMAZONAS
BRASIL
Appears in Collections:
Livros

Items in DSpace are protected by copyright, with all rights reserved, unless otherwise indicated.