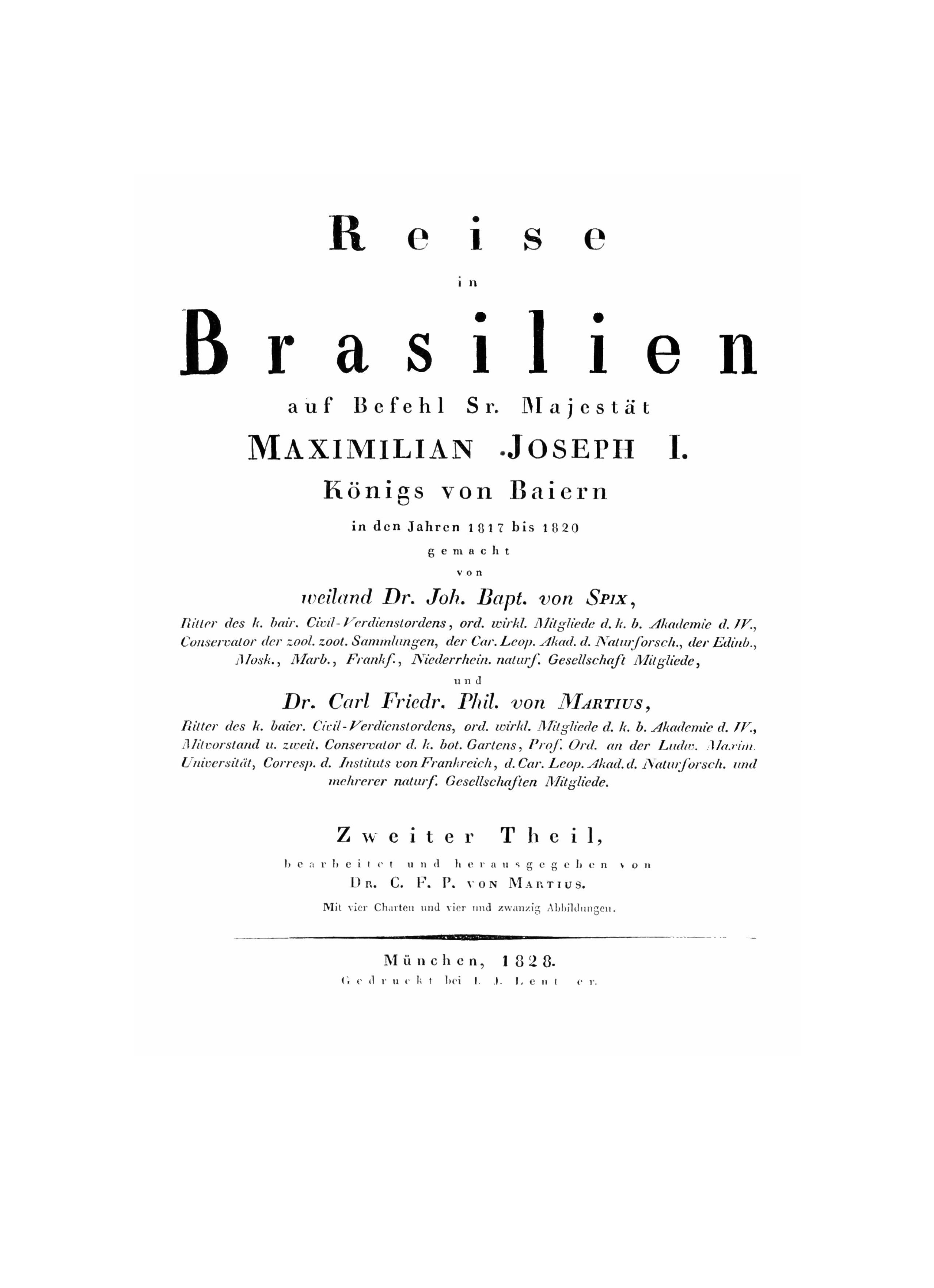 Authors:
Spix, Johann Baptist von, 1781-1826
Title:
Reise in Brasilien auf Befehl Sr. Majestät Maximilian Joseph I., Königs von Baiern, in den Jahren 1817 bis 1820 gemacht und beschrieben
Publish Location:
München
Publisher:
M. Lindauer
Issue Date:
1823-31
Physical Medium:
3 v, 30 cm, and atlas of 41 pl., port., 7 maps
Description:
Vols. 2-3. "bearb. und hrsg. von C. F. P. von Martius." v. 2 has imprint: München, I. J. Lentner, 1828; v. 3, München, Bei dem verfasser, Leipzig, In comm. bei F. Fleischer, 1831. Atlas has engr. t.-p
Local Note:
Exemplar do Museu Paulista no v.3 é acrescido de: Geographischer Anhang: Über die Generalkarte von Südamerika/ von Prof. Fr. Ed. Desberger. 40p. - Brasilianische Volkslieder und Indianische Melodien. Musikbeilage. 15p.
Type:
LIVRO
Contributor:
Martinus, Karl Friedrich Philip von, 1794-1868
Language:
ger
Linked with:
bbm/7004
bbm/7009
bbm/7010
bbm/7011
bbm/7012
bbm/7013
bbm/7014
bbm/7015
bbm/7005
bbm/7006
bbm/7007
Subject:
RECURSOS MINERAIS
ÍNDIOS DA AMÉRICA DO SUL
EXPEDIÇÕES CIENTÍFICAS
MINAS
Geographical Coverage:
BRASIL
Appears in Collections:
Livros

Items in DSpace are protected by copyright, with all rights reserved, unless otherwise indicated.