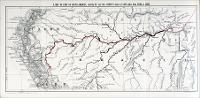 Title:
A Map of Part of South America, showing Mr. And Mrs. Booth's Route of 3,500 miles from Para to Lima
Publisher:
Londres : Stanford's Geographical Estab.
Issue Date:
[s.d.]
Part of:
bbm/5163
General Contents:
Este mapa mostra a rota da viagem do Sr. e Sra. Booth pela América do Sul. A linha vermelha representa o percurso de 3,500 milhas entre o Pará (Brasil) e Lima (Peru).
Type:
Mapa
Language:
Inglês
Espanhol
Português
Subject:
MAPAS
DESCRIÇÃO E VIAGENS
Geographical Coverage:
AMÉRICA DO SUL
PERU
AMAZÔNIA
BRASIL
Appears in Collections:
Mapas

Items in DSpace are protected by copyright, with all rights reserved, unless otherwise indicated.