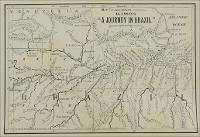 Title:
Map to Accompany Agassiz's 'A Journey in Brazil'
Publisher:
Buffalo (NY) : Matthews, Northrup & Co., Art Printing Works
Issue Date:
[s.d.]
Part of:
bbm/4589
General Contents:
Mapa da viagem organizada pelo professor Agassiz, em 1865 e 1866. Destaque para o Rio Amazonas e seus afluentes: Rio Negro, Madeira, Tapajós e Xingu.
Type:
Mapa
Language:
Inglês
Português
Subject:
DESCRIÇÃO E VIAGENS
MAPAS
Geographical Coverage:
AMÉRICA DO SUL
RIO AMAZONAS
Appears in Collections:
Mapas

Items in DSpace are protected by copyright, with all rights reserved, unless otherwise indicated.